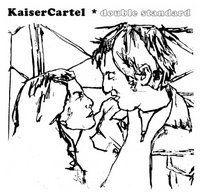 This is a busy busy week here at the label. We're gearing up for the highly anticipated Digital Release of KaiserCartel's debut recording Double Standard. The band features the voices and playing of Courtney Kaiser and Benjamin Cartel. They've recorded 7 sweet sweet songs that blend Folk and Rock and make you ready to cuddle up next to the fire with someone cute. It'll be available everywhere in early July. But, they'll be on tour EVERYWHERE before that. Catch them in Europe or in the US this summer. You will be stunned.
Up The Empire has some great shows lined up in Boston, New Haven and NYC. If you haven't already done so, pull out that cell phone and text "lowdoughshow" to "22122″ and WIN FREE TIX to the Boston show at Middle East Downstairs. The band will have new Tees and Buttons, not to mention their sexy new album Light Rides The Super Major. We'll be on the road with the band and will bring back some photos to post here on the blog. Tickets are available for Boston here, and for NYC here, and New Haven, you're in luck, that show is Totally Free.
We'll See You Out and About.