Ford & Fitzroy

Ford & Fitzroy is:
Jay Schneider
Glenn Waldman
Mina Kim
Scott Schneider
Mike Sweeney

For Press Inquiries: Tony @ Pavement PR


Preview & Download

three select tracks from the debut Ford & Fitzroy album

Canyons

using the player below. Enter your email address and the tracks are yours for the taking! Help spread the word by putting the player on your own page using the

"Get & Share"

button.

---




---

Discography:

Canyons 2008
Archive for the 'Ford & Fitzroy' Category
Details for the Up The Empire release party for their new EP Loose Ends are in!  UTE will be taking the stage with numerous guests, and is bringing Boston's Bon Savants and our own Ford & Fitzroy along for the ride.  It'll be one hell of a fantastic night… and, just so you know… probably your only chance to get your hands on a physical copy of the new CD.  We haven't pressed very many of these puppies… so, first come, first serve.  Get there early and don't miss a minute!
Wednesday, December 17, 2008
Up The Empire ::::: 11pm
Bon Savants :::: 10pm
Ford & Fitzroy : 9pm
Mercury Lounge
217 E. Houston St
New York, NY
3 comments
The show last week was great. Ford & Fitzroy killed it. Jonny Leather was there and wrote up a great review of the show and took some awesome pictures.
No comments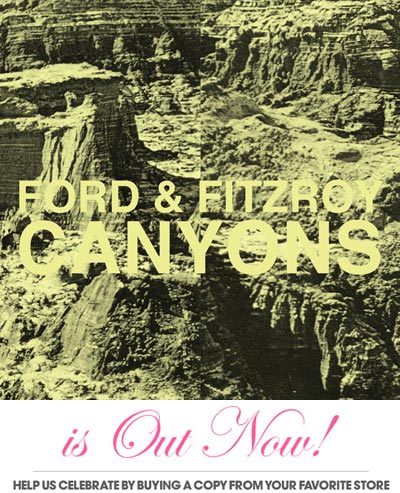 Ford & Fitzroy's debut album Canyons is out now! Get your copy here.
No comments
Hey there folks. What a week! Obama is the new President Elect and there were parties in the streets. We're keeping the good times rolling next week because Ford & Fitzroy are having their CD release show on Nov. 13th at the Studio at Webster Hall. They will be playing to celebrate the release of Canyons, which will hit the electronic shelves on Nov. 11! The Studio is located at 125 E 11th Street in Manhattan (same as Webster Hall). The show starts at 8:00 so come on by and party with us.
CANYONS will be released on Nov. 11 in all online shops and stores so look for it in your favorite one, be it iTunes, eMusic, Rhapsody, Napster, or whatever. You can read more about Ford & Fitzroy (the newest edition to the Cougar Family) and listen to tracks from CANYONS here.
See you there!
No comments
It's almost drink your face off and stumble around CMJ time here in NYC and Ford & Fitzroy will be standing tall and playing their asses off at Rehab on Saturday, Oct 25th.  It's a $5 show and should be nice and solidly packed, so we'd definitely recommend getting there a bit on the early side and getting up nice and close to the stage to see these guys before they explode.  Check out some tunes at Largehearted Boy and see Glenn's NYC Music Survey in NY PRESS here as well as the list of bands that are "destined to one day rule the NYC music scene alongside Sonic Youth" (which, of course, includes F&F) right here.
Get on it and get ready!
1 comment
Ladies & Gentleman, we'd like to introduce you to the the newest band on The Cougar Label, Ford & Fitzroy.  We're quite happy to be releasing their debut album, Canyons, on November 11th.  They pulled us in to their sound from way down the hall at our practice space… and it's rare rare thing when a song's hooks actually permeate foot thick walls and turns in a hallway.  We loved the songs before we saw them live, and couldn't get enough once we did.  So, needless to say, we're very excited to have them on board!
Check out some of the tunes from the new record here.
And, even better, see them live at the Pull-Out Method Daytime Showcase on OCT 25th at Rehab during CMJ!
No comments